What Is The Best Composite Decking?
What is the best composite decking? Decking is an essential part of outdoor living spaces that adds aesthetic and functional value to homes and commercial properties. Two key players dominate the market regarding outdoor decking: wood composite and vinyl decking. This blog will provide an in-depth comparison between these two decking types, so you can know which is best for you. Here at Upper Dauphin Vinyl Products we believe in making informed choices, so let's look at what makes each decking unique.
Best Wood Composite Decking Brands
TimberTech
TimberTech has been a leader in the composite decking industry since 1997 and has stayed ahead of the game by using sustainable materials and innovative designs. You can select from 7 different collections and grades. In the higher grade lines of wood composite decking TimberTech has replicated natural wood graining making your deck look natural in your backyard. The natural wood look is mixed with their beautiful color blending, making TimberTech a great choice for wood composite. TimberTech has a great line of products and is a definite frontrunner if you are wondering, what is the best composite decking?
Trex
Trex composite decking is made with 95% recycled material and is a good medium between wooden boards and PVC. Trex uses a high-performance, weather-resistant shell that is resistant to warping or fading over time. Trex takes its commitment to the environment very seriously and reports to have saved over one billion pounds of reclaimed wood and plastic from ending up in landfills. If you are wondering, "What is the best composite decking?" Trex is one of the top brands in the world
What Is Composite Decking
Composite decking is an artificial outdoor decking material made from wood fibers and plastic components. This hybrid material tries to capture the best of both worlds; the natural aesthetics and textural appeal of wood, coupled with the durability and easy maintenance of plastic.
Composite decking is designed to mimic the look and feel of natural wood, offering various shades and grain patterns. The decking is designed to be sturdy, resistant to rot and insects, and requires less upkeep than natural wood. However, wood composite will hold much more heat than vinyl, especially when exposed to sunlight. So what is the best composite decking? Is there a superior alternative to composite decking? Read below to find out!
What Is The Best Composite Decking? Is There A Superior Alternative?
Vinyl decking is an innovative outdoor decking material that is aesthetically pleasing and highly functional. Crafted from high-quality PVC (polyvinyl chloride), it's a form of synthetic decking that offers several significant advantages over other materials. Vinyl decking, often called PVC decking, is remarkably durable, weather-resistant, and virtually maintenance-free.
Clubhouse vinyl is available in various colors and designs to cater to individual style preferences and blend seamlessly with your outdoor environment. Its ability to mimic the look of natural wood and its many practical benefits has seen vinyl decking grow in popularity among homeowners looking for a balance between beauty and longevity in their outdoor spaces.
Composite Vs. Vinyl Decking Materials
Regarding decking, both wood composite and vinyl have carved their niches in the market. Wood composite decking, made from a blend of wood and plastic, offers natural wood's aesthetic allure and increased resistance to the elements. It's known for its durability and relatively low-maintenance nature compared to traditional wood decks. However, vinyl or PVC decking presents an even more resilient alternative. It champions longevity and resistance to mold, mildew, and insects. It comes in various styles and colors, offering an alluring blend of low-maintenance and aesthetic versatility.
You came here wondering, "what is the best composite decking?" But what is the best decking isn't composite? Choosing between these two decking materials often involves evaluating your specific needs. While composite wood decking has advantages, such as a natural look and improved durability over traditional wood, vinyl decking is the superior choice in all areas. Its remarkable durability, water resistance, and minimal maintenance requirements make it a standout choice, especially for those living in humid climates or near water bodies. Plus, it's safer for families with children or pets since it doesn't splinter or rot. Its wide range of designs, colors, and textures makes it a versatile choice that can beautifully complement any architectural style.
3 benefits of wood composite decking
1. Durability. Wood composite decking is known for its durability. Built to last, this type of decking can withstand various elements, from the scorching sun to harsh winter conditions, without warping or splintering. Additionally, it is resistant to insects and rot, which helps extend its lifespan, often surpassing traditional wood decks.
2. Pleasing Aesthetics. Wood composite decking beautifully mimics the natural aesthetic of real wood without its associated drawbacks. It comes in various colors and finishes, allowing homeowners to customize their outdoor living space to their liking. So, what is the best composite decking that offers pleasing aesthetics? The realistic wood-grain patterns and rich color options make it versatile for various exterior styles, ensuring you can find the perfect choice for your needs.
3. Environmentally Friendly. Environmentally conscious homeowners appreciate wood composite decking because it's often made from recycled materials. Using recycled wood and plastics significantly reduces the amount of waste going into landfills, making this option a more sustainable choice for decking.
The Drawbacks of Wood Composite Decking
Maintenance Requirements. One of the primary drawbacks of wood composite decking is the level of maintenance it requires. Although wood composite materials offer an attractive, wood-like appearance, homeowners often wonder, "What is the best composite decking?" They seek a low-maintenance option that retains its beauty without extensive upkeep. Unlike vinyl, which only needs occasional cleaning, wood composite will need extra maintenance and is more susceptible to fading. Over time, this constant maintenance can become time-consuming and financially draining for homeowners.
Long-Term Durability Concerns. Another concern with wood composite decking revolves around its durability. While it's true that wood composite is designed to resist rot and insect damage better than traditional wood, it can still suffer from these issues over time. Furthermore, wood composite decking can warp or swell due to moisture exposure, creating an uneven surface. On the other hand, high-quality vinyl decking is designed to withstand the elements without warping, cracking, or swelling, offering a consistently smooth, attractive surface for many years.
Heat Retention. When considering the best composite decking, it is important to address the heat it can generate when exposed to the sun. Vinyl decking, in comparison, can be up to 30 degrees cooler than composite decking on a warm summer day. So, if you're wondering what the best composite decking for those scorching 90-degree summer days is, your bare feet will thank you for choosing a vinyl deck!
5 Advantages of Vinyl Decking
1. Low Maintenance. One of the standout advantages of vinyl decking is the low maintenance requirements. Unlike other materials, vinyl decking must not be regularly stained, painted, or sealed. This significantly reduces upkeep efforts and expenses, saving you valuable time and money in the long term. While wood composites also have lower maintenance requirements than pure wood, vinyl decking has them beat, demanding nothing more than an occasional wash to keep it looking fresh and new.
2. Durability Vinyl decking is impressively durable. It can withstand harsh environmental conditions, resist UV rays, and is less susceptible to insect and moisture damage than wood composite. While both materials are built to last, vinyl decking has the upper hand in longevity, making it a cost-effective choice in the long run.
3. Aesthetics. A significant advantage of vinyl decking is its ability to retain its aesthetic appeal over time. It's resistant to fading, and unlike wood composite, it doesn't risk the potential of wood grain textures peeling off over time. Plus, vinyl decking is available in various designs and colors, allowing you to customize your outdoor space to your taste.
4. Comfort and Safety. Vinyl decking offers a higher degree of comfort and safety. It does not splinter or have sharp edges, making it an excellent choice for families, particularly those with children or pets. In addition, vinyl decking is slip-resistant, offering an added safety feature crucial for those rainy or snowy days. While wood composite decking also offers these benefits, vinyl decking edges it out due to its more consistent material composition.
5. Sustainability. Vinyl decking is also a more sustainable option. As it's made from recycled materials, it helps reduce environmental waste. Moreover, given its long lifespan and reduced need for replacement, vinyl decking contributes to less overall material usage.
Disadvantages Of Vinyl Decking
You may have heard that vinyl is much more expensive than wood composite decking, which is true in some cases. However, the only wood composite that is noticeably cheaper than vinyl is the baseline wood composite line which isn't nearly as attractive or aesthetically appealing as high-grade wood or vinyl. The wood composite decking we sell the most of here at Upper Dauphin is very similar in price to vinyl decking.
Does this mean the price will be nearly the same for wood composite or vinyl? The short answer is yes. And even if the vinyl costs slightly more, it will last much longer than wood composite, saving you bundles of money down the road. Pricing shouldn't be a factor when choosing between vinyl and wood composite. However, you can look at the advantages of both products at the beginning of this article to decide what is the best composite decking for you. If you are just looking for the cheapest decking product, vinyl decking is not for you.
Recap of the Advantages of Vinyl Decking Over Wood Composite
In the ongoing debate between wood composite and vinyl decking, one aspect that sets vinyl firmly ahead is its low maintenance requirement. Unlike wood composite, vinyl decking does not need regular staining, painting, or sealing and is extremely easy to clean, only requiring the occasional sweep or hose down. Moreover, vinyl decking also excels in longevity, as it is highly resistant to elements like moisture, heat, and UV rays, ensuring that it remains vibrant and functional over a more extended period.
If we shift our focus to aesthetic appeal, wood composite decking may be appealing because of the more natural wood graining. Still, with advances in vinyl technology, they are very similar in looks. With advancements in manufacturing techniques, vinyl decking offers a vast range of designs and colors, closely mimicking the natural appeal of wood and more. Not only can homeowners enjoy the aesthetics of wood, but they can also explore a broader range of contemporary or customized designs.
Upgrade Your Outdoor Living Space Today!
Discover the joys of low-maintenance and beautiful wood composite or vinyl decking with Upper Dauphin Vinyl Products. Our team of experts is ready to guide you through every step of your decking journey, helping you choose the perfect style to suit your home and lifestyle. Don't wait to transform your outdoor living space into a sanctuary of relaxation and entertainment. Contact us today to get started on your decking project and experience the remarkable durability and stunning design versatility that vinyl can offer. Your ideal deck is just one call away!
Upper dauphin vinyl products completed Projects
Trex Deck
Install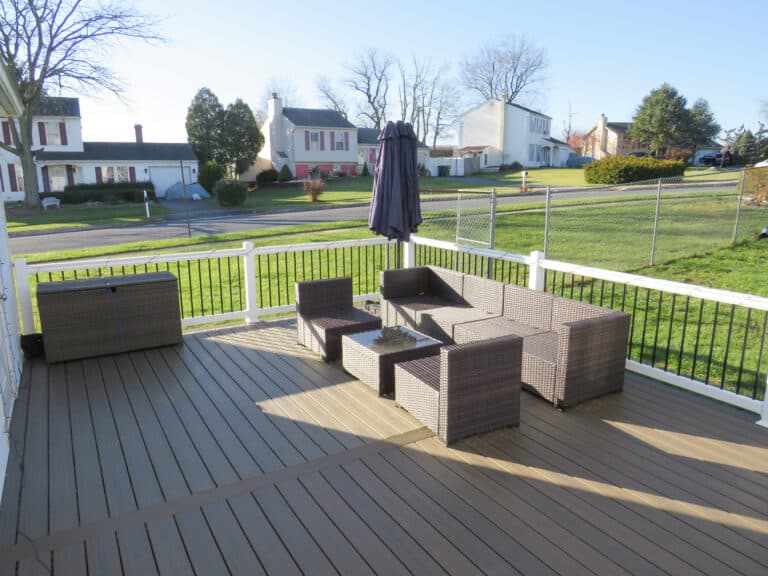 Wood Composite Deck install
Vinyl Deck & Pavilion
Vinyl Deck Replacement